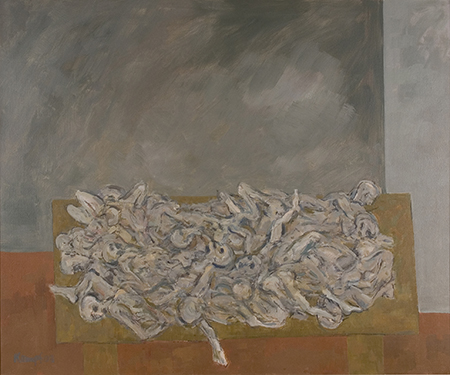 Internationally renowned Adelaide Jewish artist Franz Kempf AM has been awarded the 2013 M.U.A. 'Blake Prize for Human Justice' for his oil painting 'The Outrageous Has Become Commonplace'. Speaking at the annual Blake awards, Kempf observed the modern desensitization to human tragedy: "We are confronted on television every week by the most atrocious acts which flick on and flick off the television while people are sitting, some even eating breakfast and looking at it and I just find that too confronting for words".
His painting aims to express the horror of the holocaust by depicting the bodies which were found in the camps and showing them on a tilting table, being discarded, to make the image more confronting. He notes "that atrocious act [the holocaust], now we see every day on television, from Pol Pot to Syria to Vietnam, everywhere. I hope to mirror that atrocity in a more confronting way". Illuminating the tangled bodies is an ethereal glow of light from which the bodies are being cast away.
The painting was originally displayed in Adelaide as part of an extensive collection for Franz Kempf's 'Days of Masks and Riddles' exhibition. Professor Sasha Grishin, Head of Art History at the Australian National University, has described Franz Kempf as one of our major contemporary artists, and observed:
"his work with its preoccupation with humanist themes and the eternal questions of faith and being appear timely and relevant for our times. Beautifully crafted and displaying a superb sense of visual intelligence, Franz Kempf's paintings and graphics in this exhibition celebrate the human spirit and convey the deep conviction in the sacredness of human life".
Accompanying his oil painting in each exhibition has been a quotation from Rev. John Bachman (1790-1874) a social activist, which mirrors the insight depicted in Kempf's work:
'The war is no longer declared but contrived. The outrageous has become commonplace.  So what has changed? We are now confronted by a disdain for diplomacy, and a reliance on military or paramilitary forces to settle disputes. With little concern for the innocent victims. Collateral damage?'
The Blake Society, named after the visionary artist and poet, William Blake, is a non-profit organization that implements and manages an annual Prize and Exhibition program for contemporary art and poetry exploring the themes of spirituality, religion and human justice.
The Blake Prize categories include the main Blake Prize, the Blake Prize for Human Justice (sponsored by the Maritime Union of Australia) and the Blake Poetry Prize (administered and managed in partnership with The NSW Writers' Centre).
Further information:
Franz Kempf speaking at the award ceremony:
Blake Prize 2013 Human Justice Award http://www.youtube.com/watch?v=cnllMEGbxXg
The Blake Society http://www.blakeprize.com/
Franz Kempf paintings and prints are available from BMG Art: http://www.bmgart.com.au/

Read More