A Monkey Stole My Talit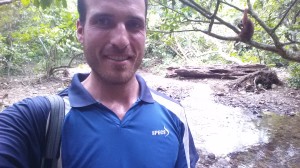 A mother orang-utan and her baby shuffled slowly towards me. I took a few steps back. Mama reached out her hand and I gave her a banana.  We weren't supposed to feed the wildlife, but it seemed like everyone was doing it.
I plucked off a leach that was half way up my leg and tossed it into the stream and then headed back for the campsite.
"Salamat Pagi." My cook said. He handed me a cup of tea.
"Terimakasi," I replied.  It was day five in a Sumatran jungle and I had picked up a few Indonesian words.  I needed to learn how to say, "Way to much sugar in the tea."
Dan, my trekking partner, approached. "I go this for you." He handed me a plastic bag containing my talit and siddur. "A monkey grabbed it from the shelter."
I looked up. A large grey, monkey glared back.
"I chased him up the tree and he dropped the bag."
"Thanks," I said. "I should have packed it away when I finished praying."
"I'll pack it for you," Dan said. "I'm heading to the shelter."
As I sipped the tea I watched several monkeys battle with a couple of komodo dragons over some scraps of food.  The monkeys outnumbered the dragons ten to one and were clearly wining.
A girl came over and squatted on a rock next to me.  Her clothes were clean compared to mine, and she had nowhere near as many mosquito bites covering her arms and legs as I did.
We chatted about our travels. She was American and had been on the road for almost five months which included a trip to Israel. I did not want to ask her straight out if she was Jewish, in a country of nearly two hundred million Muslims I myself would be weary to say I was Jewish.
After a few more questions I worked out she had been on birthright and was obviously Jewish. When she realised I was Jewish, her face lit up. "Was that your talit that fell out of the tree?"
I laughed.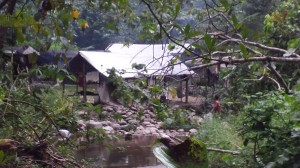 "Unless it has been raining talatot this morning, it was probably
mine."
"I saw a guy pick it up off the ground. He said it wasn't his." She laughed.  "Will you be in the jungle for Shabbat."
I wiped the sweat from my forehead. "It's been almost a week in this place. I would still like to see some snakes, but I've had it with the mosquitoes, leaches, mud, and rain. If you are going to be here for Shabbat remember to light Shabbat candles."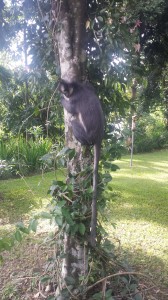 Read More