Rabbi Ephraim Mirvis was appointed to the role of Chief Rabbi of the United Hebrew Congregations of the Commonwealth following the retirement of Lord Jonathan Sacks in September 2013. We learn from a recent  'Australian Jewish News' that Chief Rabbi Mirvis is currently making his first trip to Australia for 12 days, with visits to Perth, Sydney, Canberra and Melbourne. Then he travels to New Zealand to visit Auckland and Wellington.
In Perth he is speaking at Perth Hebrew Congregation on his vision for the United Hebrew Congregations of the Commonwealth.
In Sydney he is speaking at Central Synagogue, South Head Synagogue, the Jewish Learning Centre in North Bondi and at North Shore Synagogue and at various schools (Masada, Moriah, Mt Sinai and Kesser Torah Colleges), delivering an address for the 65thanniversary of Bnei Akiva and another at a public meeting at National Council of Jewish Women of Australia's Fanny Reading House.
In Canberra he will attend the inauguration of the ACT Jewish community's new Rabbi Alon Meltzer.
In Melbourne he visits Caulfield Hebrew Congregation, St Kilda Synagogue, Blake Street Hebrew Congregation, Mizrachi and Central Shule, as well as speaking at Mount Scopus Memorial College, Leibler Yavneh College and Bnei Akiva.
After travelling to New Zealand he will visit Wellington and Auckland to attend Rabbi Netanel Friedler's inauguration at Auckland Hebrew Congregation on 1st December.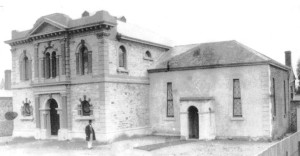 Adelaide Hebrew Congregation is older than ALL of the above-mentioned Australian and New Zealand congregations of the United Hebrew Congregations of the Commonwealth included in the list above. We were formed in 1848 by settlers arriving from England in the earliest ships arriving in South Australia. The customs and rituals, many of them written in detail and adopted by our congregation were based on those of Duke's Place Synagogue in London from which many of the settlers and merchants came. These traditions are Ashkenazi, from Poland, and include various London shul rituals AHC has maintained for over 166 years. Our parade rituals honouring Chatan Torah and Chatan Bereishit, our pledges to charity at an aliya to the Torah, the prayer for the Queen and many other rituals and customs of our synagogue continue, probably unchanged, intriguing visitors, to this day.
At the time we moved to our new location in Glenside, the congregation's previous Adelaide synagogue building, which was used for over 140 years, was the oldest continuously used synagogue in the southern hemisphere.
Our first qualified minister (and a Shakespearean scholar), Reverend Abraham Tobias Boas, served 50 years and was finally ordained as a Rabbi at his retirement, during a previous tour by a Chief Rabbi of the Commonwealth; the Chief Rabbi noted that Rabbi Boas was the longest serving Jewish minister in the Commonwealth. Other past AHC Rabbis, including Rabbi Philip Heilbrunn and then Rabbi Baruch Davis (who now serves at Chigwell and Hainault synagogue in Essex) maintained our strong links with these traditions.
Although we are a tiny community, we are proud of our heritage and look forward to learning of the new vision of the Chief Rabbi of the Commonwealth for all the United Hebrew Congregations of the Commonwealth.
We remain, like a diamond in the sand, on some distant shore, waiting to be discovered again.
(This is a guest post by a member of the Adelaide Hebrew Congregation)
You can read about Chief Rabbi Mirvis here: http://www.chiefrabbi.org/